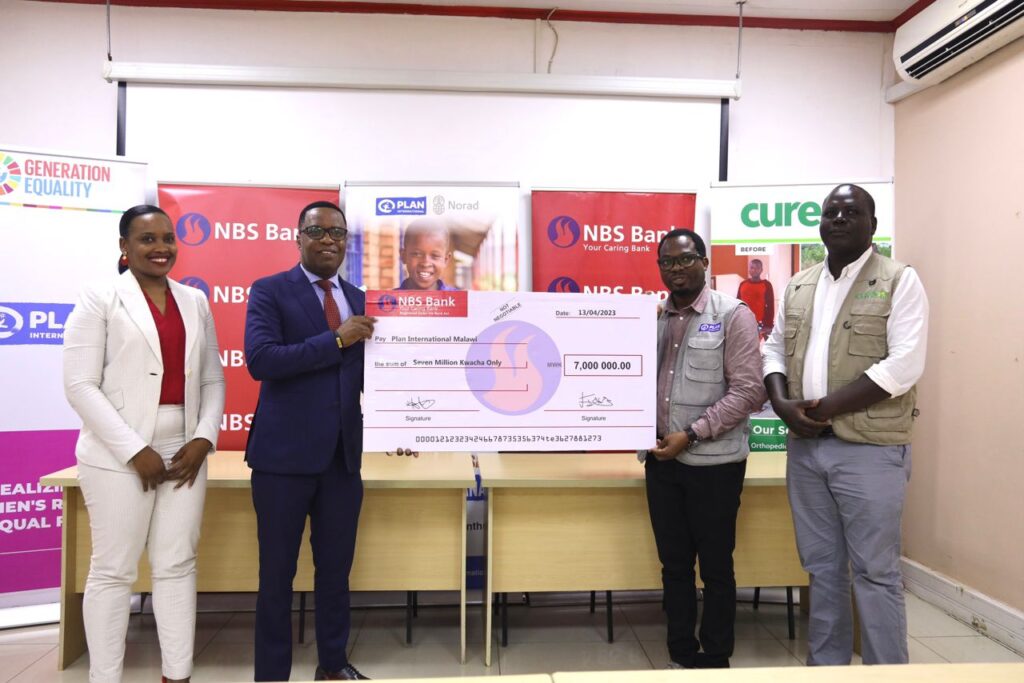 Listed NBS Bank plc has committed K7 million to rebuild houses for some families who were displaced and lost property due to Cyclone Freddy in Chiradzulu district.
Speaking on Thursday during the handover of the money to Plan International who will facilitate the process, NBS Bank chief operating officer (COO), Shadrick Chikusilo said they felt the need to do more to avert the emotional, psychological and physical damage caused by the storm.
"It is a well-known fact that our country faced great devastation last month at the hands of Cyclone Freddy which saw approximately 40,000 homes being destroyed, over 500 lives being taken and 650,000 others being displaced across the country."
"Your Caring Bank is not just a slogan to us. This is why we are here today to show in action that We Care A Little More. As a Bank, we believe that the damages cannot be repaired within a day and as Malawians, we need to hold hands and rebuild the lives of those affected by the tragedy that is Cyclone Freddy," said Chikusilo.
Plan International regional manager for the Southern Region, Christopher Katutu said they will use the funds to build houses, pay rent for two months, purchase beddings, kitchen sets, and food baskets for the three female-headed households in Nguludi.
"Cure International reached out to us for assistance after three children who were treated at Beit Cure International Hospital with fractures from the Cyclone remained at the hospital after recovery because they had no home to go to. We will construct low-cost, decent housing for these families and the remaining funds will be used for social cash transfer for the elderly in the affected area," he said.
This is not the first time NBS Bank has reached out to Cyclone Freddy victims.
The Bank through NICO Group of companies contributed towards a donation of K200 Million which was distributed amongst three institutions namely: World Vision, Rotary Club of Blantyre and Land Rover Defenders Club of Malawi.
They also donated various items worth K14 Million through its Service centres across the country to camps in Chikwawa, Mulanje, Zomba, Thyolo, Chiradzulu, Limbe, Blantyre and Mangochi.
Just two weeks ago, NBS Bank also donated K20 million towards the NBS Bank Charity Shield Match which took place last weekend in collaboration with Football Association of Malawi (FAM) to raise more funds towards supporting survivors.
Over the week FAM announced that this year's Charity Shield produced the record revenue at K20 million since its inception in 2016.