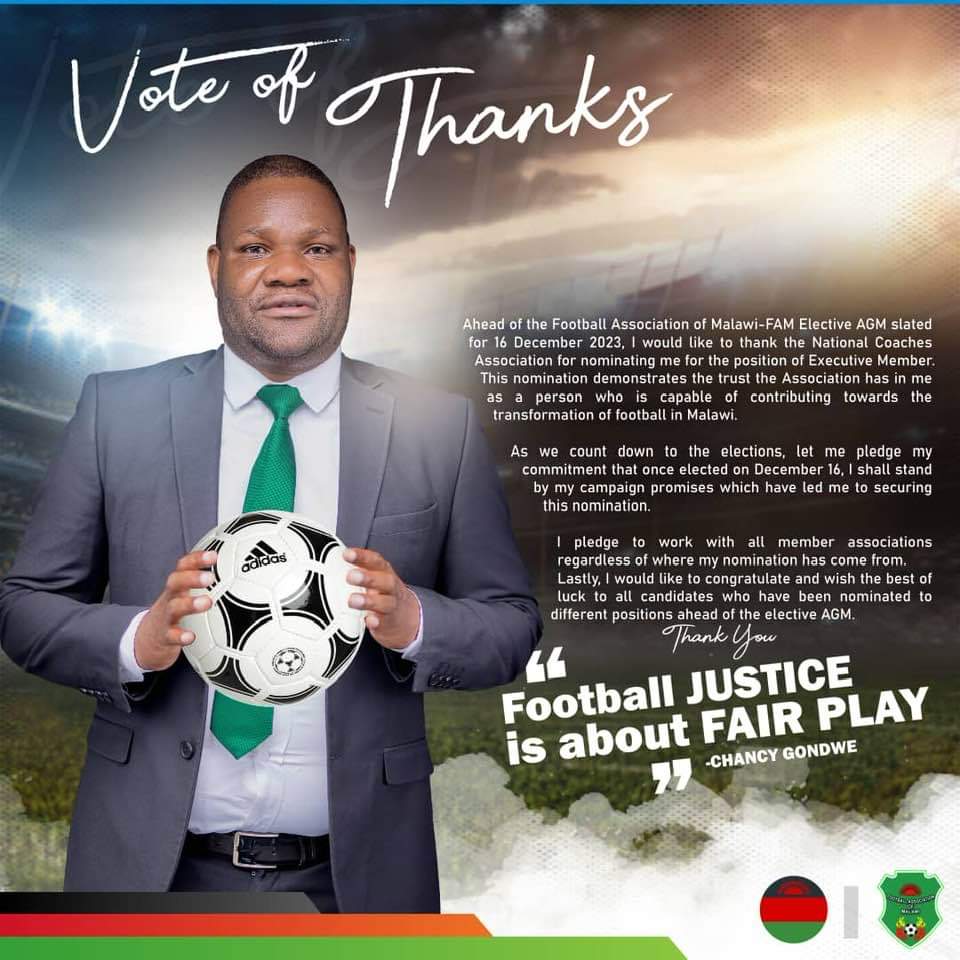 Private practice lawyer cum football administrator Chancy Gondwe has commended National Coaches Association (NCA) for nominating him for the post of Football Association of Malawi (FAM) Executive Member ahead of the AGM slated for December 16 in Mzuzu.
In a vote of thanks message posted on his official facebook page, Gondwe said the nomination has demonstrated the trust which the Coaches have in him in steering the game of football to greater heights in the country.
"I would like to thank the National Coaches Association for nominating me for the position of Executive Member. This nomination demonstrates the trust the Association has in me as a person who is capable of contributing towards the transformation of football in Malawi," said Gondwe, who is the Board Secretary for Mighty Mukuru Wanderers.
He further said: "As we count down to the elections, let me pledge my commitment that once elected on December 16, I shall stand by my campaign promises which have led me to securing this nomination."
"I pledge to work with all member associations regardless of where my nomination has come from. Lastly, I would like to congratulate and wish the best of luck to all candidates who have been nominated to different positions ahead of the elective AGM."
Chancy is a senior law practitioner and is the Managing Partner at Gondwe & Attorneys, a private law firm based in Blantyre. He has been in practice for more than 14 years.
He graduated from the University of Malawi with bachelor's degree in Law (honours) in 2008. From the same university, Chancy also obtained an Executive MBA (2018). He then went back to the same University of Malawi where he obtained Master of Laws (Commercial Law) with credit in 2023.
Chancy may never have played football at a serious level, but his passion for the game is beyond reproach.
The senior positions he has in football management attest to his love for the game. He served as Mighty Mukuru Wanderers FC Legal Advisor from 2017 to 2019. He also served as the Club's Chairman from March 2021 to October 2021 during which period he was influential in spearheading its commercialization drive as he played a legal advisory role throughout the process.
From October 2021 he proceeded to assume the position of Board Secretary and Legal Advisor a position he still holds currently. Chancy brings to the Football Association of Malawi his vast knowledge of the game as well as leadership skills he has obtained outside football.
Outside football, he has held several senior leadership positions such as Board Member of the Malawi Communications Regulatory Authority (MACRA) as well as Agricultural Development Marketing Corporation (Admarc). He also served as Board Chairperson of the Roads Fund Administration from 2018 to 2020.