By Brenda Nkosi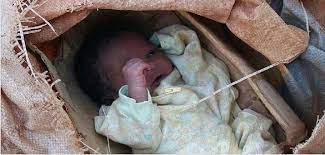 Blantyre, November 15, Mana: A 22-year-old Nkhotakota Community Radio reporter was in September this year arrested and prosecuted when she confessed to have killed her baby few seconds after its birth.
According to the scribe, she went to the hospital with abdominal pains and before she was attended to she had gone to the bathroom to relieve herself where a baby was born and at that moment she strangled it to death.
Thereafter she took the dead baby and presented it to the nurses wondering why she had delivered a baby when she wasnt pregnant in the first place.
The country is always engulfed in shock when an incident of child dumping has been exposed, with many condemning the act.
While many call the mother all sorts of names, authorities also rush to arrest and imprison perpetrators of such acts.
National Police Public Relations Officer, James Kadadzera in an interview says the police do not have conclusive data as to how many babies have been dumped this year.
However, almost every month the media is awash with news that a baby has been dumped somewhere mostly in the latrine.
Executive Director for Family Rights, Elderly and Child Protection (FRECHIP), Esmie Tembenu believes that factors leading to baby dumping need to be acknowledged by families and dealt with for meaningful change to happen.
"Behind so many cases of baby dumping there are some unplanned pregnancies, which are often a result of unsafe and unprotected sex," Tembenu observes.
"Unsafe sex and unplanned pregnancies happen due to lack of education and knowledge," she suggests.
The retired Child Justice Magistrate says there is also a strong stigma attached to unmarried mothers which results in young and single mothers dumping their babies due to poverty, shame and fear.
Tembenu says in law, there is a presumption of insanity applied to mothers who have given birth and this presumption of insanity ends when the baby is at least 12 months old implying that the mother becomes temporarily insane during this period.
"Such mothers deserve emotional support. The lack of emotional support from family members complicates matters further," she says.
Tembenu, nevertheless, says pregnant teenage girls are often afraid to seek help from appropriate service providers, not only because of social prejudice, but also due to the law that punishes non-exploitative and consensual sex between adolescents.
"These girls either dump babies or terminate pregnancies illegally to cover the boy whom they had consensual sex with," she states.
Tembenu further explains that Malawi needs to consider some factors of baby dumping to arrive at solutions to the problem.
"A better support system has to be hatched for pregnant teens and single mothers by parents/relations, authorities and communities because if not supported they do resort to dumping the baby after giving birth," Tembenu emphasises.
She, however, adds that the health systems must also ensure that contraceptives are available to girls who are sexually active and single mothers.
Programme Manager for St. John of God Hospitaller Services, Dr. Mwai Ngoma, whose PhD is on maternal depression, attributes some cases of baby dumping to post-natal depression.
Ngoma says post-natal depression is a mood disorder that occurs four to six weeks after childbirth that affects how a woman feels, thinks and acts causing feelings of sadness and loss of interest in activities that a woman once enjoyed.
"Sometimes mothers reject the baby completely. In addition to thoughts of suicide, others may also have thoughts of wanting to harm the baby," Ngoma points out.
According to Ngoma, post-natal depression is very common in women globally. In Malawi, for instance, approximately 14% of women suffer from post-natal depression.
Ngoma says the issue of baby dumping is complex, suggesting that there could be several reasons mothers would dump a baby.
However, she says that only when an assessment or an investigation is conducted, thats when you can have definite reasons or factors that led to such an act.
"There are a number of reasons that might force a mother to dump her baby; for others, it might be because theyre unable to take care of the baby, with a view that the baby is better off raised by someone else other than themselves.
"Then there are others who might have intention of harming the baby for whatever reasons; then there are those who might have done that because of a mental illness including post-natal depression," says Ngoma.
She says Malawi needs a wide range of services that can support the mothers the time they are pregnant and after giving birth.
"There is need to create awareness on post-natal depression and maternal mental health issues, because a lot of women are suffering in silence," says Ngoma.
Ngoma adds that maternal mental health issues do not only affect the mother but the baby and the family alike.
"There is need to make counseling services available and accessible to mothers in facilities at all levels from primary health care to health centres, integrate maternal mental health into reproductive health care and train more mental health providers," she says.
Ngoma also calls for better social services by empowering mothers with knowledge and skills to be self-sufficient, strengthening of family systems, creation of more foster care services to take care of children that cannot supported by their biological mothers, adoption services and creation of awareness of such services.
District Social Welfare Officer for Blantyre, Stephano Akuzike Joseph says there are many factors that drive people into baby dumping.
"The critical reason for baby dumping is neglect as very few do so because of mental disturbance but most of them are into sex work," says Joseph.
Joseph says as such most mothers found to have dumped their baby are arrested as this act contravenes Section 3 of the Child Care, Protection and Justice Act, duties and responsibilities of parents and guardians.
On the other hand, Joseph says the countrys laws do not provide any outlet for a mother who feels she cannot nurse her baby for one reason or the other.
"The laws are not clear on mothers who wish to give up their baby neither do they allow someone to kill the child," he says.
Joseph, nonetheless, says there is growing demand for foster care and adoption.
"In fact, the demand for adoption is not met as there is limited number of children available for adoption or foster care. The statistics are not alarming as there is an average of 20 children adopted annually in the country," Joseph explains.
Meanwhile, the only way the country has been handling cases of baby dumping is the arrest of the mother while the contributing factors are neglected.
Perhaps baby dumping is everyones fault, from community to authorities.
As for the Nkhotakota Community Radio journalist, her case is still in court but many mothers will still dump their children as the leading causes are not seriously addressed.
Mana/bn/adn/ys