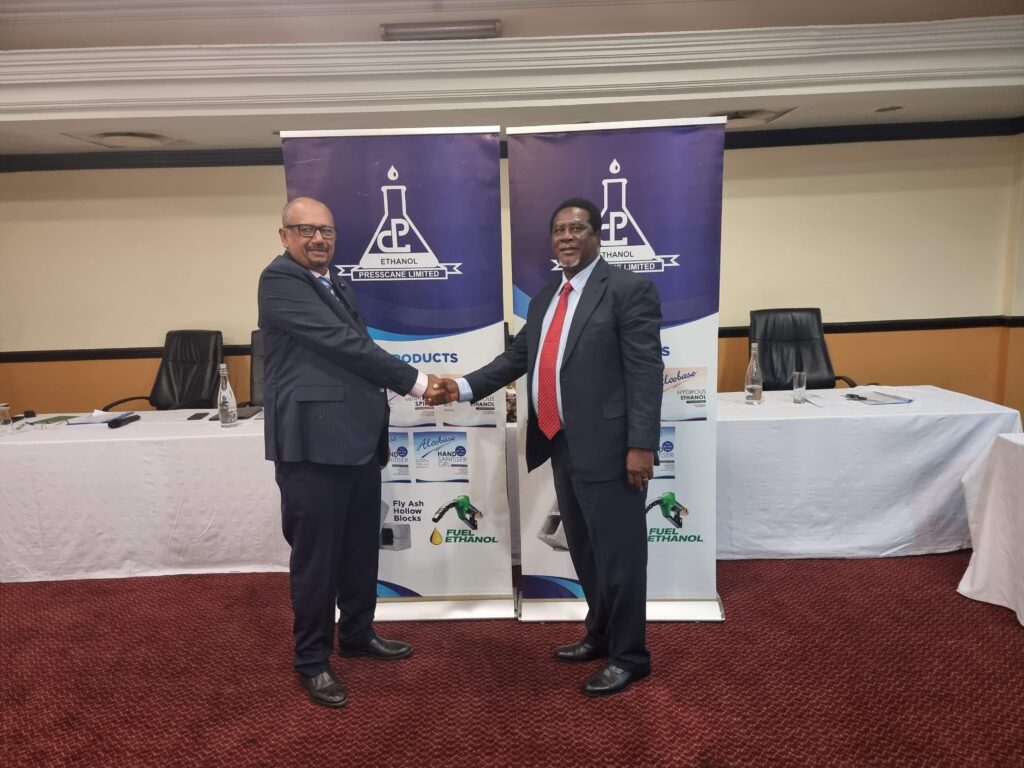 Press Corporation plc (PCL) and Cane Products Limited (CPL) have announced that they have amicably resolved the longstanding shareholding issues in PressCane Limited which have been litigated in the courts for more than 17 years.
Making the announcement during a press briefing in Blantyre on Monday, PCL Chief Executive Officer Ronald Mangani said the conglomerate is happy that all the issues have been resolved, creating an enabling environment for growing the shareholder value of PressCane Limited.
"As a background to this issue, in 2001, Press Corporation Plc and Cane Products Limited entered into a Joint Venture Agreement ("JVA") to carry on business through a vehicle which was named and registered as 'PressCane Limited'. As per the JVA, PCL and Cane Products Limited held shares in PressCane Limited in the proportions of 50.1% and 49.9%, respectively."
"In the middle of the operations of the Company, shareholding disputes arose, and there had been a series of court actions since 2003. The Malawi Supreme Court of Appeal finally delivered its judgement on 15 December 2022, which effectively maintained the status quo as regards shareholding in the JVA. The Supreme Court Judgement further directed the parties to amicably agree on the implementation of the judgment."
"We are very happy that this long-standing issue has been resolved amicably. There are no other disputes in the courts as regards this issue, and we will now make sure that PressCane Limited continues to perform well and grows its shareholder value," said Mangani.
Rolf Patel, representing directors and shareholders of Cane Products Limited also expressed delight that the issues around shareholding in PressCane Limited have been resolved amicably.
"We are happy that we are now speaking with one voice and moving forward to drive the profitability of PressCane Limited," said Patel.
PressCane Limited Board Chairman Paul Guta also hailed the move by the two shareholders saying the decision to resolve the issues amicably demonstrates not only their commitment to the well-being of PressCane but also their unwavering dedication to the broader ideals of cooperation and progress.
"The advantages of this resolution are profound, and they will undoubtedly result in the accelerated growth of PressCane Limited. Our path forward is clear, and we are now better positioned than ever before to execute our strategic objectives and reinforce our vision of becoming a regional leader in the ethanol production industry."
"As we celebrate this momentous occasion, let us reflect on the power of collaboration, compromise, and commitment to a common purpose. Let this be a testament to the strength of our PressCane family and our shared determination to reach new heights," said Guta.
PressCane Limited, an ethanol distillery company located in Chikwawa district, began its operations in June 2004.
It produces fuel ethanol also known as anhydrous alcohol (AA 99.5% v/v) and industrial alcohol (rectified spirit 95.0 – 97.0% v/v) from sugarcane molasses which are procured from Illovo Sugar Malawi Limited at nearby Nchalo in Chikwawa district.