By Iommie Chiwalo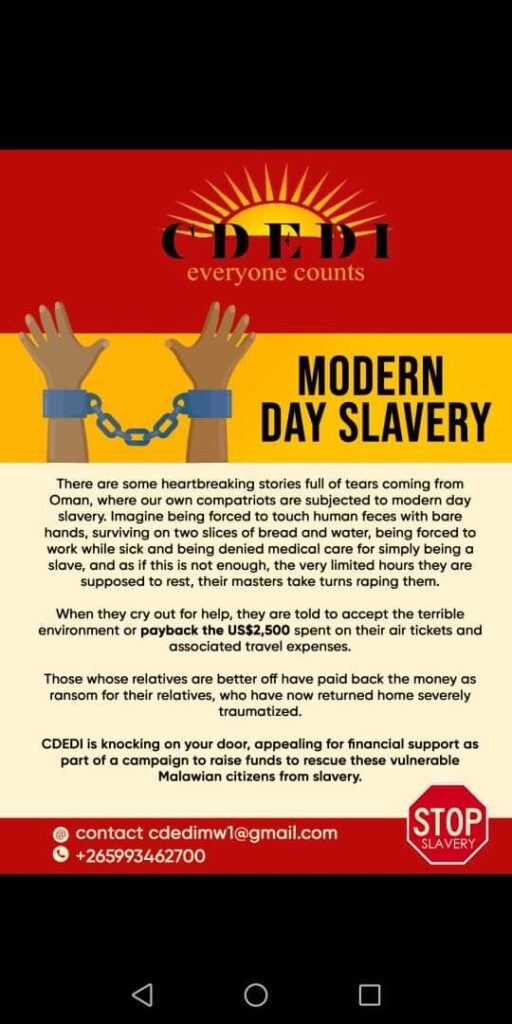 The Center for Democracy and Economic Development Initiatives (CDEDI) has emphasized that the "Oman rescue campaign" is still underway saying what is lacking to bring back the entrapped women is not Air tickets but rather ransom money.
In his response to the development that government has secured 50 Air tickets to bring back the women, CDEDI Executive Director Sylvester Namiwa says "still ransom money is needed,"
The required ransom money is the total amount said to have been spent on each woman's air ticket, visa, medical reports, police clearance and other relevant travel documents.
"It has come to our attention that government has secured 50 air tickets for our women enslaved in Oman. What this means is that there is need for $2,500, about 2. 5 million Malawi Kwacha as ransom money for each of the 50 women in order for them to be released," Namiwa elaborates
He has continued appealing to the United Nations, local and international state and non-state actors including the private sector to join CDEDI in the campaign to raise $125, 000 about MK125 Million to rescue all the 50 women.
The CDEDI Chief has since appealed to those tempted to travel to the Middle East on the pretext of looking for greener pasture for they might be would-be victims.
On how to get involved in the rescue mission, people can contact CDEDI on +265993462700 or email at cdedimw1@gmail.com or alternatively contact the Foreign Affairs Ministry.
After CDEDI announced the launch of a crowd funding campaign to raise the funds, Ministry of Foreign Affairs was quick to announce that it has secured Air ticket sponsorship for 50 Malawian women who are stranded in Oman.
Spokesperson for the Ministry John Kabaghe confirmed of the arrangement.
He, however, said that what remains is payment of the money their captors are demanding to release them.