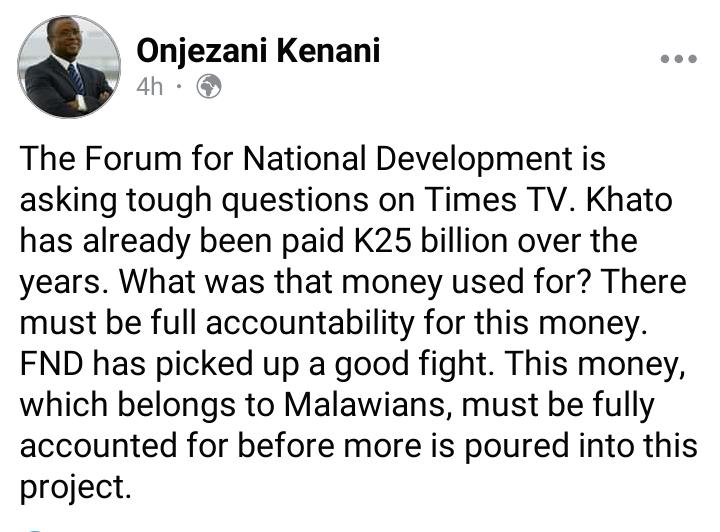 On May 10, 2023 renowned social media commentator, Stanley Onjezani Kenani, wrote a Facebook post over an injunction that Forum for National Development (FND) obtained restraining two commercial banks, NBS Bank plc and National Bank of Malawi plc, from providing funds amounting to K105 billion to Khato Civils towards a water pumping project from Salima to Lilongwe.
It was an original post aimed at igniting a candid debate on the gridlock facing this very important project, which if completed will impact millions of people in Lilongwe and sorrounding areas.
Unfortunately, Kenani's FB post was hijacked by elements who included their own words in the post to make it look like Leader of Opposition in Parliament, Dr. Kondwani Nankhukwa, did not utter any word about the issue, particularly on how the government side handled the [Lake Malawi Water Supply Project] Loan Authorisation Bill in Parliament, to authorize government to borrow money from banks on behalf of Khatho.
"These people have ulterior motives. The truth of the matter, however, is that Dr. Nankhumwa actually spoke about the Bill, condeming the secrecy with which it was brought to Parliament, and he is ably quoted as such in the media," a DPP Member of Parliament, who preferred anonymity, told Malawi Voice on Wednesday.
Nankhumwa was quoted in the media as saying: "The Bill was circulated electronically at 9.40 am. Using its numerical strength, the government side moved a motion for the production of a supplementary order, which was passed. Consequently, the Bill was brought on the floor and got passed the same day amid protests from the opposition. How would members deliberate on a financial Bill that had just been circulated?"
According to the MP, the people who used Kenani's to tarnish the image of the Leader of Opposition in Parliament may be those that do not wish him well ahead of the Democratic Progressive Party (DPP) national convention in July.
"As you may be aware, the DPP will go to the polls later this year to elect office bearers, including its presidential candidate for the 2025 election.
"The succession temperature is rising every day and it is not suprising that Dr. Nankhumwa is taking the most flack because he is the one who is clearly ahead by far and wide among the several presidential hopefuls, including the party President, Professor Arthur Peter Mutharika, who is retiring from retirement to contest again as the party's President at the national convention.
According to the Parliamentarian, almost all the rival camps within DPP are stopping at nothing to stop Nankhumwa including using various unorthodox means, "including putting words in the mouth of innocent Facebookers like Onjezani Kenani to achieve their myopic ends".