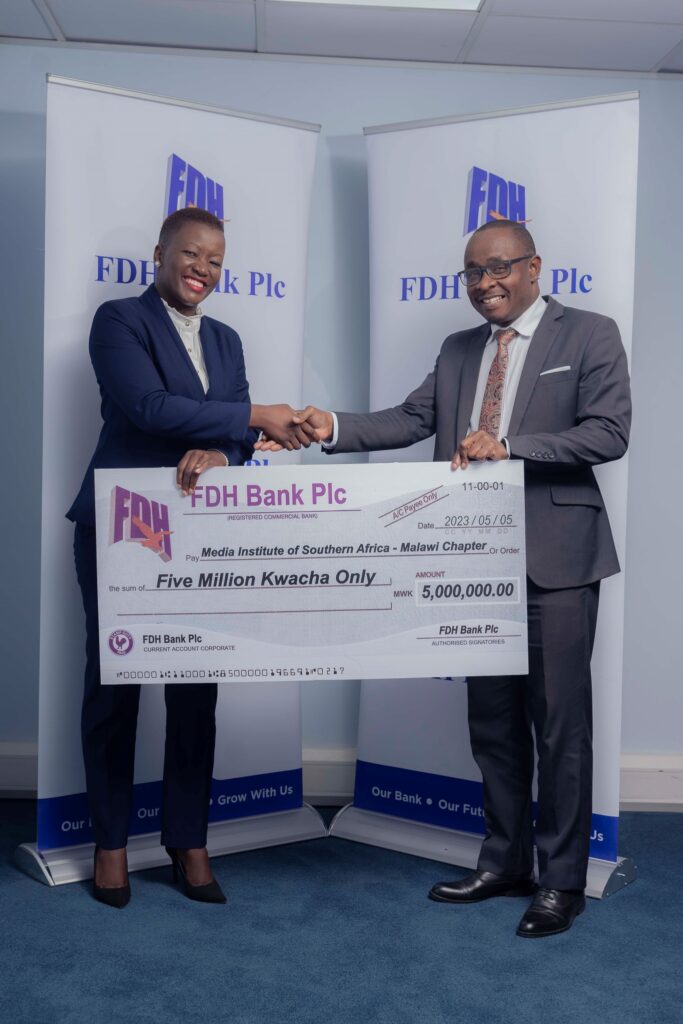 FDH Bank Plc has committed K5 million towards this year's Media Institute of Southern Africa (MISA) Malawi award gala slated for Saturday night in Lilongwe.
Speaking during the cheque handover ceremony in Blantyre on Friday, FDH Bank Public Relations Manager Lorraine Chikhula, said the Bank applauds the crucial role the media plays in the country and the support it renders to different stakeholders and partners including the financial sector.
"As FDH Bank Plc we are honoured to have sponsored the upcoming activities with an amount of K5 million towards the MISA Awards Gala which includes sponsorship of several key awards categories to our media partners." said Chikhula.
She added that as a homegrown institution, the Bank recognizes the importance of putting people first and resonate with the values that are important to the people of Malawi under their sustainability program, 'FDH Cares'.
"It is important for the corporate sector to support initiatives that are of great value to the media hence FDH Bank Plc taking part in reflecting the fundamental principles of Press Freedom, evaluation of the state media and press freedom in the country and efforts in defending journalists," she said.
Chikhula further congratulated the new MISA National Governing Council (NGC) that was ushered into power on Thursday led by Golden Matonga as Chairperson.
Representing MISA Malawi at the event, Aubrey Mchulu who is also Editor of The Nation newspaper commended FDH Bank Plc for the support saying it will go a long way in ensuring the awards gala is colourful and memorable especially this year as it celebrates 30 years since its establishment.
"FDH Bank is a true partner of the media fraternity in Malawi. This support cannot go without appreciation," he said.
During the gala, journalists from various media houses are awarded for their exploits within the year.