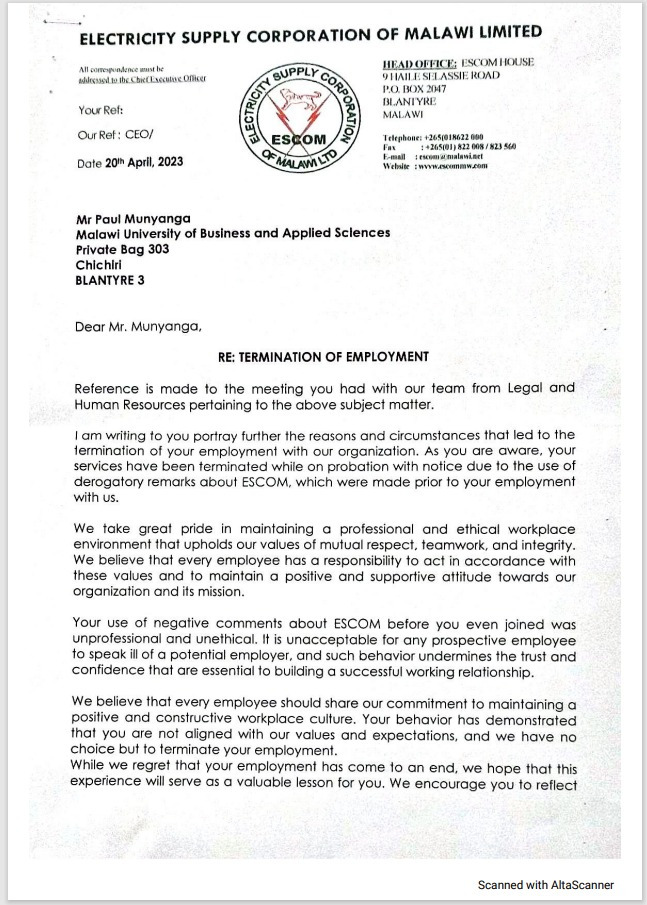 It is totally sad and absurd that in this day and age, public corporations like Electricity Supply Corporation of Malawi Limited (ESCOM) are practicing witch-hunting, impunity, and discrimination of individuals based on political affiliations.
The case of termination of employment for one Paul Munyanga, a well-qualified and disciplined electrical engineering graduate, allegedly for the use of 'derogatory remarks' about ESCOM, which were made prior to his employment with ESCOM – is wrong on so many levels.
Checking the actual Facebook posts that ESCOM attached as evidence for his comments actually shows that there is nothing derogatory against ESCOM itself!
It is a dark day for justice and the labour system in Malawi as reports continue to emerge of politically motivated unfair dismissals by public institutions under Malawi Congress Party (MCP).
This despicable practice keeps leaving many hard-working individuals without a source of income, simply because they do not share the same political views as those in power. This is not just an attack on the livelihoods of these individuals but also on the very fabric of our democracy.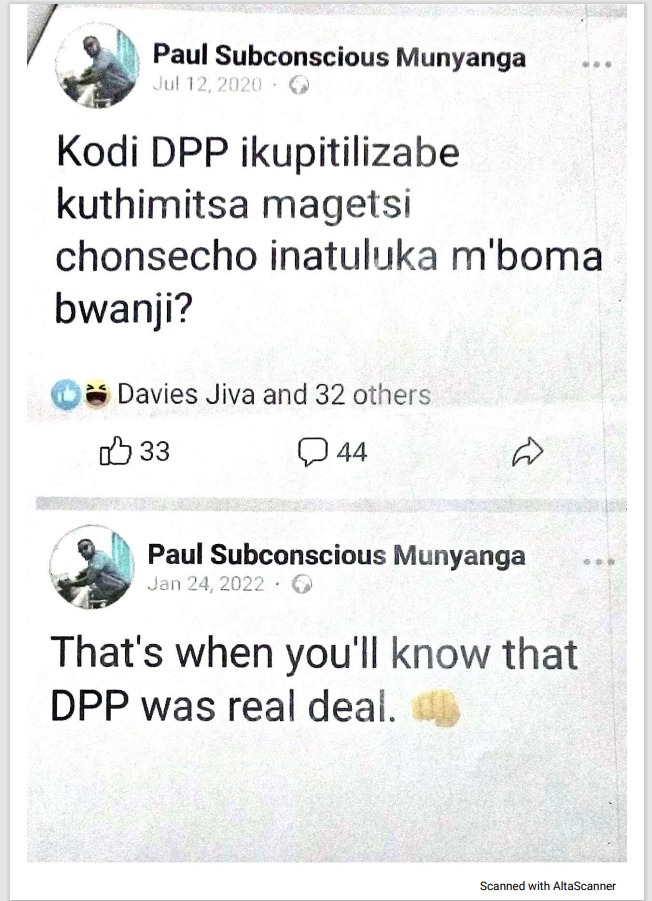 It is unacceptable that those in positions of power are using their influence to silence dissenting voices and crush opposition.
This injustice is particularly severe because it not only affects those directly impacted by the dismissals but also sends a chilling message to all Malawians.
If public institutions can act with impunity and dismiss individuals based on their political affiliations and without any professional merit, what is to stop this from happening in other areas of society?
Our democracy is only as strong as its ability to protect the rights and freedoms of all citizens, regardless of their political beliefs. We cannot allow this type of behaviour to go unchecked.
It is time for Malawians to stand up and demand justice for those who, like Paul, have been unfairly dismissed. We must send a clear message to those in power that this type of behaviour will not be tolerated in our country.
We call on the government and all public institutions to immediately end all politically motivated dismissals and to ensure that all individuals are treated fairly and impartially. Our democracy depends on it.