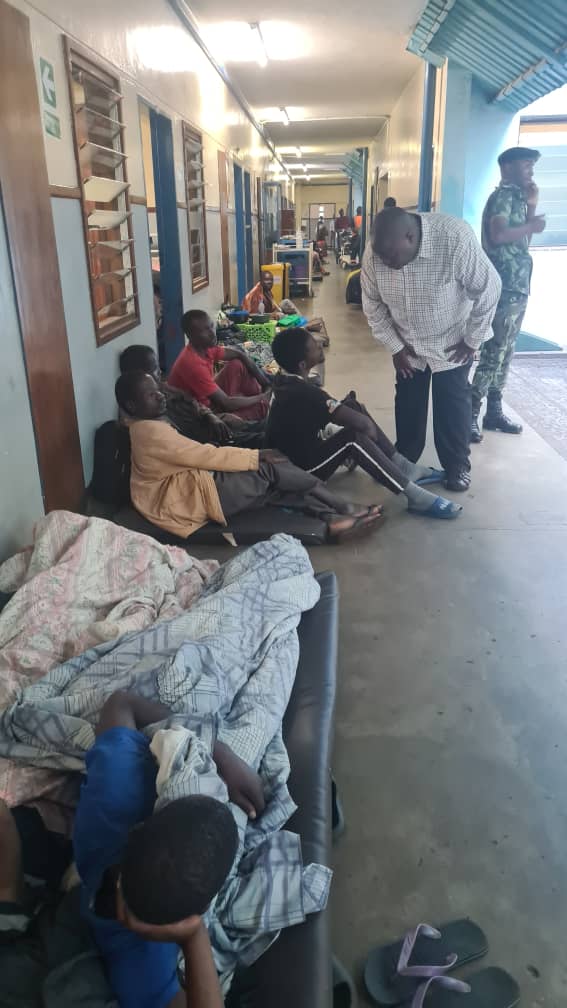 Leader of the Opposition in Parliament and Democratic Progressive Party (DPP) Vice President (South), Kondwani Nankhumwa, has decried the worsening and deplorable medical services delivery at the referral Kamuzu Central Hospital (KCH) in the Capital City, Lilongwe.
He has since urged the Malawi Congress Party (MCP) government of President Lazarus Chakwera to treat the situation at KCH with much urgency to save lives.
Nankhumwa was speaking after he made a surprise visit to the hospital on Thursday, April 20, 2023, after he received information from various individuals about the deteriorating conditions at the hospital.
During the visit, the opposition leader found many patients sleeping on the floor.
The youthful politician also discovered most of the diagnostic machines not operational and that there was a serious shortage of essential medicines and tools, a scenario that has put many patients' lives in danger.
He also said there are high levels of understaffing at Kamuzu Central Hospital, exacerbating the already dire medical situation.
"I am distressed, dismayed and saddened by the state of medical service delivery at this hospital, particularly for patients sleeping on the floor. I broke down when I listened to most of the patients and guardians relating their ordeals.
"As the Leader of Opposition in Parliament, I wish to make a solemn appeal to the President of this country [Lazarus Chakwera], and his government, to intervene in the worsening situation at the KCH, and obviously in other state health facilities, as a matter of urgency.
"As a country, we cannot afford to be losing productive citizens due to negligence in our hospital facilities, especially if we are indeed serious about becoming a middle income economy by 2063," said Nankhumwa.
During the visit, the opposition leader made financial donations to some patients.