Old Mutual has declared a 2021 guaranteed fund bonus of 11 percent from pension contributions of its members.
The company announced the 11 percent bonus in Lilongwe on Friday.
Old Mutual Group Chief Executive Officer, Edith Jiya admitted that during the past two years, the company was not spared from economic hardships just like other companies but she said the company learnt how to survive to mitigate the challenges to ensure that products on offer remain relevant.
"We have not had this event in two years. As a brand we have learnt that what really matters does not change. That is, our purpose was to help customers thrive," Jiya said, citing Covid-19 pandemic and the global economic hardships as some of the challenges the company went through.
Old Mutual General Manager for Old Mutual Pension Services Company Tawonga Manda said the annualized fund bonuses for three; five and 10 year periods were above inflation "thus delivering a real return to our clients over medium to long term."
During the year, according to Manda, the fund investment environment was rough as headline inflation accelerated on account of increases in both food and non-food costs. Inflation averaged 9.3 percent in 2021 down from 8.6 percent.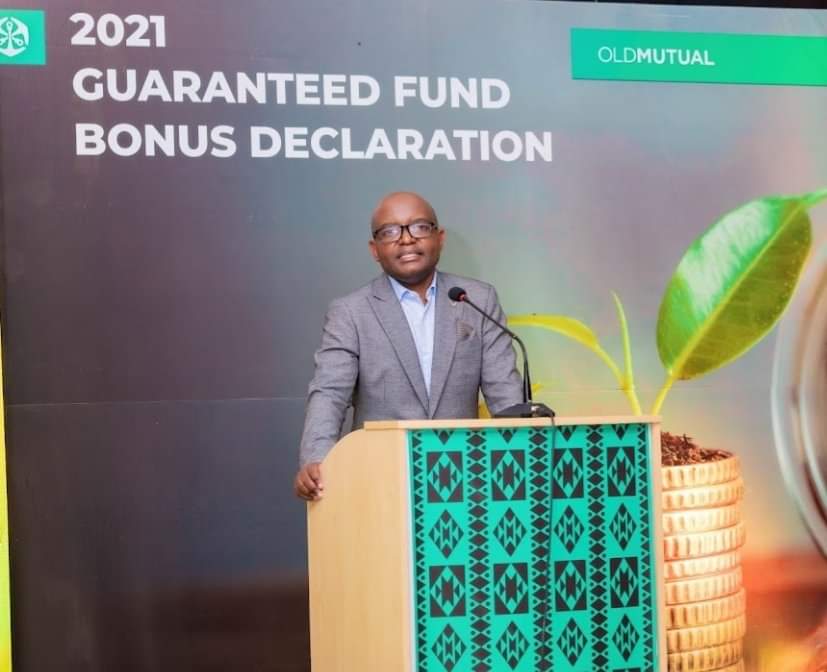 He said interest rates increased from around 13.8 percent to 14.5 percent over the year while the policy rate remained constant at 12 percent throughout the year.
"Equity market performance was bullish in the second half of 2021with All Share Index return of 40.05 compared to 7.08 percent in 2020. Over 10 year-old period, the MASI has returned to 22.39 percent," Manda said.
The Old Mutual Guaranteed Fund is a trusted fund for pension contributions. The fund aims to provide long term capital preservation with an income focus.
Apart from declared bonus over the years the fund has grown significantly and the assets under the fund are worth 390 billion; not profit as earlier reported.
The pooled funds are invested in high performing secure and diverse investments to ensure the best returns for members. The contributions are guaranteed even in adverse market conditions. -(By Deogratias Mmana, Times Group)