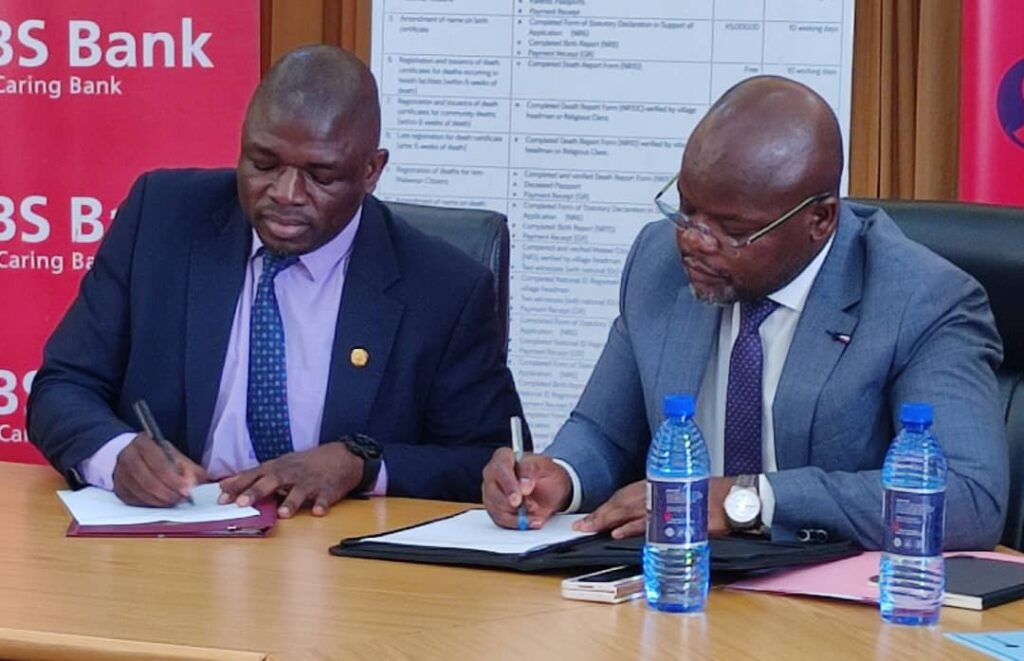 The National Registration Bureau (NRB) has digitized payment processes for all its services and has partnered with NBS Bank to pilot digital payments of the services.  
NRB has moved from collecting revenue for its services through the Treasury Cashier to using NBS Bank's Mobile Application, USSD Service, Banki Pafupi Agents, as well as Bank Tellers across the Bank's Service Centres.
Speaking in Lilongwe on Friday during the signing ceremony of the partnership, NRB Principal Secretary Mphatso Sambo said the arrangement will ensure that applicants pay at their convenience and cut costs.
"Applicants used to travel long distances to get forms and pay at the Treasury Cashier where sometimes they could not find Cashiers but with this arrangement that we have with NBS Bank, applicants will pay at their convenience while saving on costs," said Sambo.
NBS Bank head of corporate and investment banking Alfred Nhlema said the partnership will accelerate inclusion, bringing services closer to the people with simplified user journeys while leveraging a wider coverage of payment options, enhancing accountability, and maximizing government revenue collection.
"NBS Bank's wide network of Service Centres and Bank Pafupi agents brings value to the nation to efficiently pay for NRB services. Additionally, our mobile-based platforms will provide quick, convenient, and easy to use options for payments."
"Digitizing NRB's payment processes complements ongoing government digitization efforts to improve service delivery and sets the government on course to achieve a '24-hour, self-service' government," said Nhlema.
He also said they have put up systems to enable those who do not hold accounts with NBS Bank to access ID e-payment services through wallets on the bank's mobile platform systems.