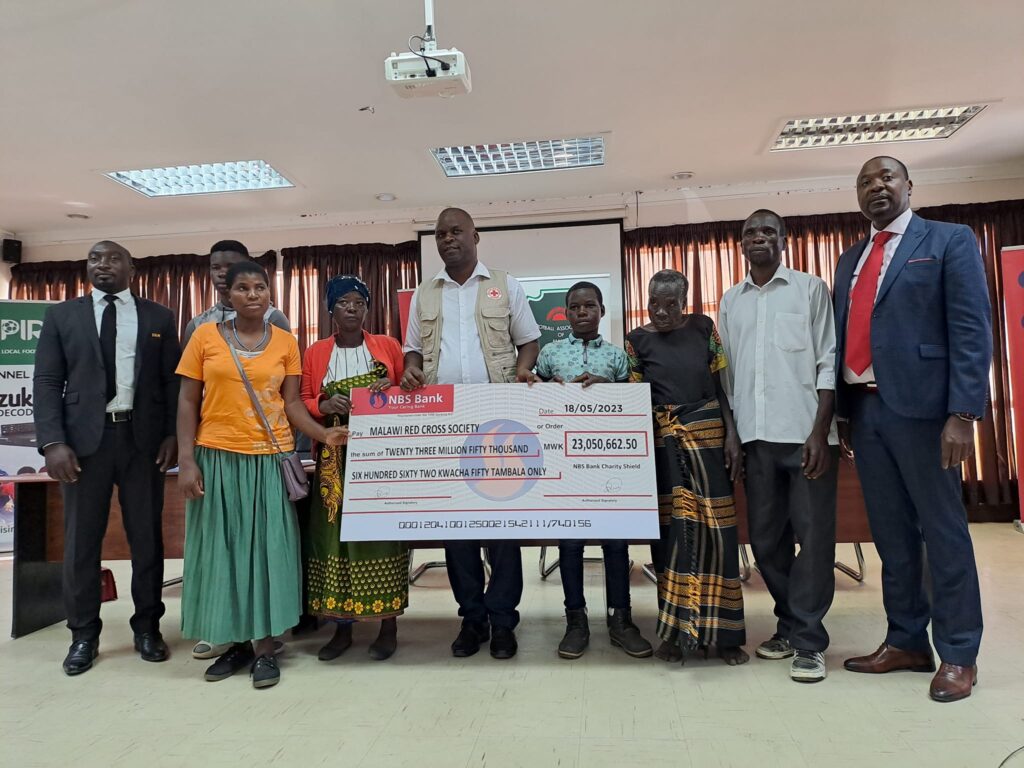 NBS Bank plc and Football Association of Malawi (FAM) have distributed proceeds from the NBS Charity Shield match and 2023 Africa Cup of Nations (Afcon) qualifiers between Malawi and Egypt amounting K30.5 million to Cyclone Freddy victims and Flames legends.
NBS Bank pumped in K20 million into the Charity Shield match, which raised the same amount, before FAM added K10.5 million from the Afcon match proceeds to the cause.
Speaking during the handover ceremony at Mpira Village in Chiwembe, Blantyre on Thursday, NBS Bank Chief Executive Officer, Kwanele Ngwenya said as a 'Caring Bank', they are committed to getting involved in charity work.
"We are happy with the positive marks that are left behind through such initiatives. This works well with our strategy of reaching out to the society. Our partnership with FAM started last year when we supported other victims of the Cyclone, but this one is a very long one," he said.
FAM General Secretary, Alfred Gunda said the association has divided the beneficiaries into four categories: football legends, football coaches whose houses were damaged, football players and some affected families from Mtauchira Village, Traditional Authority Likoswe in Chiradzulu.
"This presentation underscores our strong belief that football is a force for good and NBS Bank's continued support significantly helps the cause," said Gunda.
Some of the beneficiaries include former Flames goalkeepers Clement Mkwalula and the late Boniface Maganga who got K1.5 million and K1 million respectively in the legends programme.
FCB Nyasa Bullets Reserves and Malawi U17 National Team Assistant Coach Enos Chatama, Chitipa United mentor McDonald Mtetemera and the Malawi National Beach Soccer team captain Sandram Saddi, whose houses were affected by the disaster also received K1 Million each.
Malawi Red Cross Society (MRCS) have been given K23 million to facilitate construction of low-cost houses for four families that lost their houses in Mtauchira Village, Chiradzulu, and the family of under U-16 football player Mahara Mpholiwa, who lost his life in Chilobwe Township, Blantyre.
The balance K1.9 million will be used to buy groceries at the time the families will be officially getting their new houses.
Malawi Red Cross president Innocent Majiya assured that the Society will ensure the construction of the houses is completed in 30 days.