The Malawi Congress of Trade Unions (MCTU) has commended Castel Malawi and its Castel Malawi Workers Union (Camawu), for the good-working relationship which has the potential to benefit the economic development of the country.
MCTU Deputy Director responsible for workers' education and members recruitment, Ms. Jessie Ching'oma made the remarks during the CAMAWU Annual General Meeting in Salima over the weekend.
"It is important that as a union mother-body, we ensure that we capacitate unions in Malawi. We are looking at the critical component and contribution of workers to the productivity and the profitability of companies. At the end of such interactions, we are looking at the resultant issue of national development."
"As it has been reported by the Castel Malawi MD, that Castel Malawi is number two taxpayer to government, second from Illovo. We have been told that it pays taxes more than MK3 Billion per month, we are grateful for that. We need more investors like this to support revenue generating for our country. Actually, taxes are an important ingredient to economic development; enabling availability of necessary medicines, the exercise books for our schools, and as well as supporting smooth running of our country is."
"We are also looking at issues of employee motivation, employee-employer relationship, and dialogue, which are critical in ensuring that we have a harmonious working environment. Where there is provision of management and union engagement, employees positively contribute towards profitability and productivity of the company. We are all aware that Malawi is going through financial and economic difficulties including the climate change issues like Cyclone Freddy, not many companies can manage to release funds to support union activities in such tough times," she explained.
Guest of Honour at the meeting, Castel Malawi Managing Director, Mr. Thomas Reynaud took time to share with the union the company's further growth, a year after splitting with Cocacola.
"It is my ambition that in the next few months we will be designing a more efficient and more productive Castel Malawi. It has not been an easy road, because change comes with both positive and negative challenges. But I am happy to share with you that in this past year we have worked together very well although we had some months where our sales were below target and below last year. It is my wish that together we will continue to embrace any future changes as a team, with a positive mind and positive attitude," he said.
The Human Resource and Corporate Affairs Director, Gloria Zimba also commended the cordial working relationship with Camawu.
"The Union invited the Castel Malawi management to the AGM, because they would like to understand and align with the company's strategy as CAMAWU is planning for the 2024 calendar of events. They also wanted to know what management's expectation of them is, for 2024, but also, to be given an appraisal of how we have worked with them in the 2023 financial year."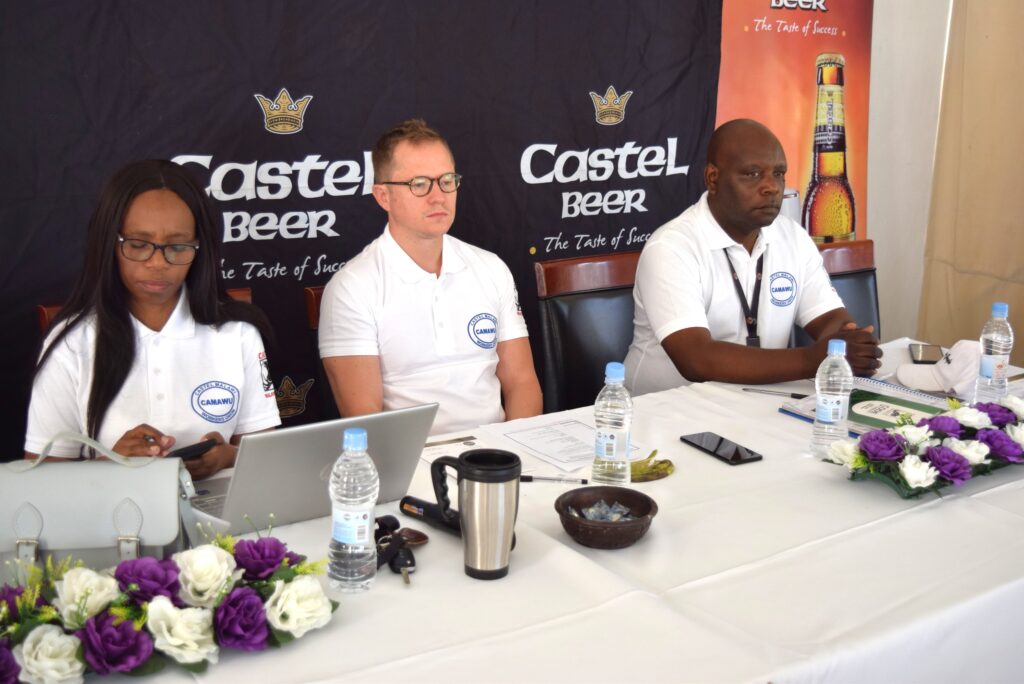 "We believe and trust that there is no company that can do well, without its employees. We also believe that our employees are one of the greatest assets that we have. We don't look at them as machines, they are people with emotions, therefore they need to be engaged. We understand that an engaged employee is a more productive and effective employee. They also feel valued, and if they feel valued, they are loyal to the company because they take ownership of whatever objectives you are driving at the organization, they take ownership of the company."
"So, you work together, you walk together and you drive the business together. At Castel Malawi, we don't believe in labelling our Union 'black'. Just because the employees are voicing out issues then they cannot be called rebellious," explained Zimba.
President of Camawu, Reuben Kapito also hailed the Castel Malawi management saying they take heed of the union concerns, and suggestions.
"In the past, the CAMAWU relationship with management was not conducive but since we started the union, we have seen a sense of recognition and engagement. Being in Union, we are a bridge between members of staff and management, so our main duty is to take concerns from the two parties. Minus union at an organisation, many people will suffer in silence," said Kapito.