A family in Chikwawa district has written the office of the Attorney General (AG) expressing intention to sue government over the death of Wilford TheniFord Mulepa who was assaulted by police and later on died.
Wilford TheniFord Mulepa was a government employee, working for water department in Chikwawa district. In December 2022 he was arrested by Livuzu Police Unit on allegations that he had stolen some items from his work place. He was brutally assaulted by officers while in custody. On 19th December, 2022, he was taken to Chikwawa District Hospital by the officers where he died.
According to a letter from the hospital addressed to the family's lawyer, Ambokire Salimu of Salimu and Associates, revealed that TheniFord Mulepa was diagnosed with severe head injury and died on 22nd December, 2022 at around 10pm.
The letter dated 11 September, 2023 is in response to Salimu's request for post-mortem report. The hospital letter is signed by Doctor Grace Momba (Director of Health and Social Services) and reveals that no post-mortem was done on Wilford TheniFord Mulepa.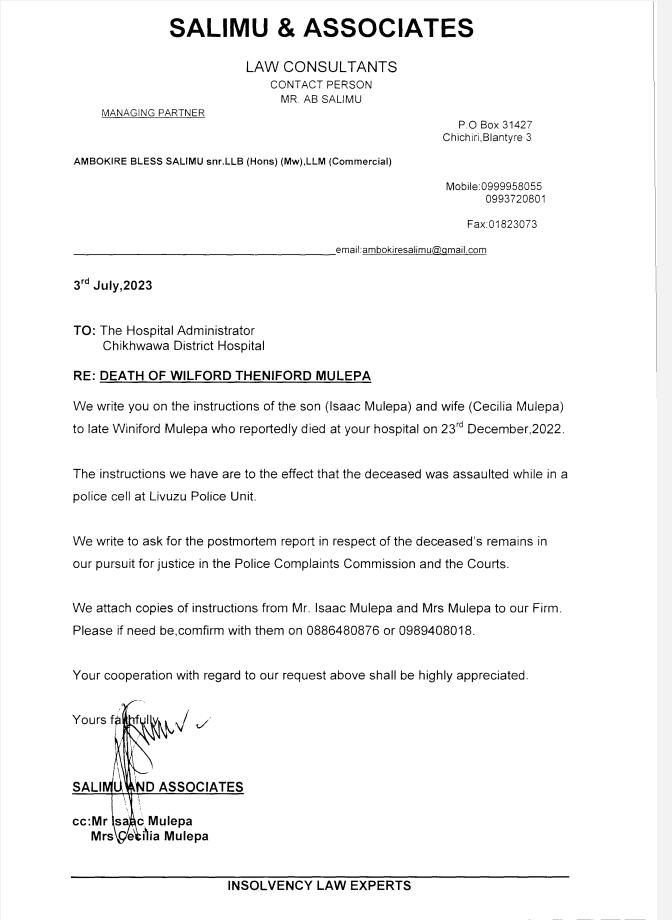 In an interview with this publication Salimu said his firm is pursuing the case following instructions from Mulepa's wife and son.
In a letter to AG dated 8th September, 2023, the aggrieved family is seeking K300 million for damages.
"We hold the Malawi Government responsible for the death of Mr. Mulepa. This letter therefore serves as a notice of our client's intention to sue the Malawi Government for the sum of K300, 000,000 being K250, 000,000 punitive damages in respect of the atrocious and cowardly act of the Police in bludgeoning Mr. Mulepa to death and K50, 000,000 general damages relating to the death of Mr. Mulepa in police custody," reads the letter in part.
There was no immediate comment from Attorney General's office on the matter. Malawi Police has on several occasions come under criticism for their brutal treatment of suspects under their custody. One prominent case is of the reggae music icon, late Evison Matafale who died in police custody in 2001. Another case of brutality is of the death of Buleya Lule, a suspect of albino killings, who died in police custody.