By Iommie Chiwalo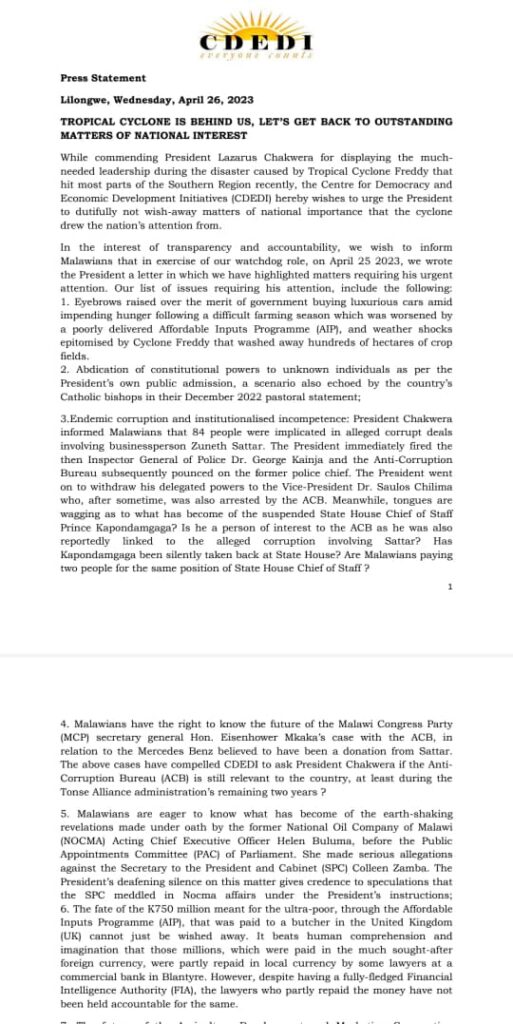 Centre for Democracy and Economic Development Initiatives (CDEDI) has challenged President Lazarus Chakwera to rise above sugar coated campaign promises the Tonse Alliance made prior to the June 23, 2020 court sanctioned Fresh Presidential Election.
In a statement signed by CDEDI Executive Director, Sylvester Namiwa , says as it stands,unless
he clears himself, Chakwera is too compromised to continue leading Malawians.
Namiwa says that calls by his organisation are coming after it is evident that Chakwera is really sleeping on duty despite numerous assurances that he will remain an agent of change in as far as transforming Malawi was concerned.
For instance Namiwa has said that Malawians are eager to know what has become of the earth-shaking revelations made under oath by the former National Oil Company of Malawi (NOCMA) Acting Chief Executive Officer, Hellen Buluma, before the Public Appointments Committee (PAC) of Parliament whereby it was seriously alleged that the Secretary to the President and Cabinet (SPC) Colleen Zamba meddled in Nocma affairs.
"The President's deafening silence on this matter gives credence to speculations that the SPC meddled in Nocma affairs under the President's instructions," he says.
Namiwa also calls for Presidential action saying the fate of the K750 million meant for the ultra-poor, through the Affordable Inputs Programme (AIP), that was paid to a butcher in the United Kingdom (UK) cannot just be wished away.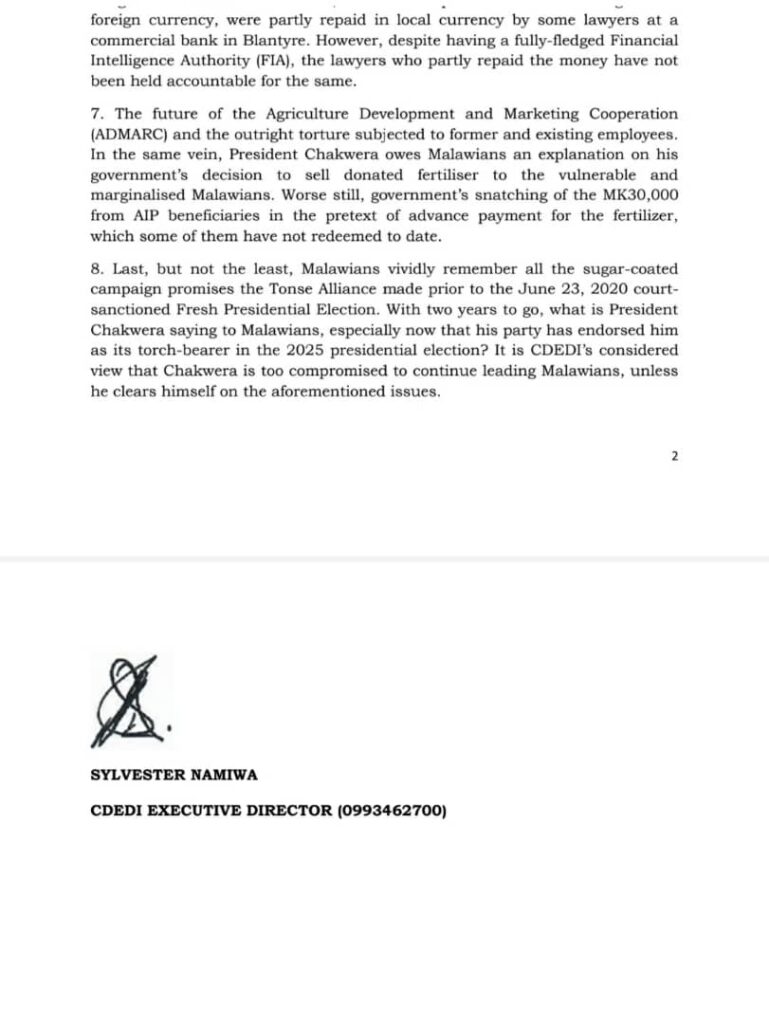 "It beats human comprehension and imagination that those millions, which were paid in the much sought-after foreign currency, were partly repaid in local currency by some lawyers at a commercial bank in Blantyre," said Namiwa.
He says it is worrisome that, despite having a fully-fledged Financial
Intelligence Authority (FIA), the lawyers who partly repaid the money have not been held accountable for the same.
Exercising its watchdog role, CDEDI has penned President Chakwera highlighting matters requiring his urgent attention.
In a statement headlined "TROPICAL CYCLONE IS BEHIND US: LET'S GET BACK TO OUTSTANDING
MATTERS OF NATIONAL INTEREST" CDEDI, among others, is requesting for attention on eyebrows raised over the merit of government buying luxurious cars amid impending hunger following a difficult farming season which was worsened by a poorly delivered Affordable Inputs Programme (AIP), and weather shocks epitomised by Cyclone Freddy that washed away hundreds of hectares of crop fields.
Namiwa is convinced that President Chakwera owes Malawians an explanation on his
government's decision to sell donated fertiliser to the vulnerable and
marginalised Malawians.
"Worse still, government's snatching of the MK30,000 from AIP beneficiaries in the pretext of advance payment for the fertilizer, which some of them have not redeemed to date," he said.
The CDEDI Executive Director gave an example of constitutional powers abdication to unknown individuals as per the President's own public admission, a scenario also echoed by the country's Catholic bishops in their December 2022 pastoral statement.
He also cited endemic corruption and institutionalised incompetence as another important area that needs practical attention.
A clear demonstration of lacking leadership, President Chakwera informed Malawians that 84 people were implicated in alleged corrupt deals involving businessperson Zuneth Sattar but selective application of Justice is evident in the matter.
For instance upon firing of the then Inspector General of Police George Kainja and the Anti-Corruption
Bureau subsequently arrested him but nothing of that sort happened to former Chief of staff at State House, Prince Kapondamgaga.
Malawians also witnessed Vice President Dr. Saulos Chilima's delegated powers withdrawn and after sometime, was also arrested by the ACB whose case is currently under Financial Crimes Court.
"Meanwhile tongues are wagging as to what has become of the suspended State House Chief of Staff Prince Kapondamgaga? Is he a person of interest to the ACB as he was also reportedly linked to the alleged corruption involving Sattar? Has
Kapondamgaga been silently taken back at State House? Are Malawians paying
two people for the same position of State House Chief of Staff," queries Namiwa.
According to Namiwa, Malawians have the right to know the future of the Malawi Congress Party (MCP) Secretary General Eisenhower Mkaka's case with the ACB, in relation to the Mercedes Benz believed to have been a donation from Sattar.
"Otherwise, as it stands, we are compelled to ask President Chakwera if the AntiCorruption Bureau (ACB) is still relevant to the country, at least during the Tonse Alliance administration's remaining two years," he queries.
Namiwa has since commended President Chakwera for displaying the much needed leadership during the disaster caused by Tropical Cyclone Freddy that hit most parts of the Southern Region recently but cautioned on the need to dutifully not wish-away matters of national importance that the cyclone
drew the nation's attention from.
Chakwera who has been endorsed by his party as its torch-bearer in the 2025 presidential election is yet to give a comprehensive report on the future of the Agriculture Development and Marketing Corporation (ADMARC) and the outright torture subjected to former and existing employees.