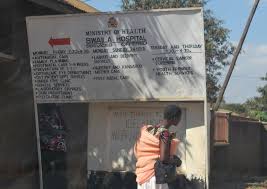 Health Surveillance Assistants (HSAs) from Lilongwe (Bwaila) District Health Office are planning to hold protests against Human Resource Officer Thandie Mnkhondiya.
Mnkhondiya is being accused of nepotism and abuse of office as the HSAs claim that she 'corruptly' recruited her two school-going children as HSAs without following government recruitment procedures.
The source further said that Mnkhondiya's children are on government payroll despite them not discharging duties as civil servants, a fancy one is at Bunda and the other at Mzuzu University.
"We as some of HSA's, are deeply concerned with this behavior. May the District Commissioner look into this issue immediately before it becomes worse as was in Mchinji," said one of the sources who opted for anonymity.
Meanwhile, Mnkhondiya is yet to respond to the accusations.
The development comes barely hours after Health Workers in Mchinji boycotted work and closed the District Health Office demanding the firing of four senior officials accused of displaying unethical conduct.